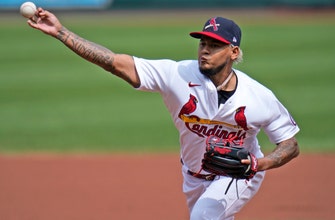 ST. LOUIS — Carlos Martínez's regular season is officially over and Johan Oviedo will rejoin the Cardinals as the club begins a crucial five-game series with the Milwaukee Brewers at Busch Stadium.
The Cardinals announced prior to Thursday night's game that Martínez has been placed on the 10-day injured list with a left oblique strain. The 28-year-old starter exited Wednesday night's start against the Kansas City Royals under a trainer's assistance after allowing eight earned runs over five innings. He finishes the 2020 season with a 9.90 ERA, 17 strikeouts and 10 walks over 20 innings spanning five starts. Martínez previously missed time this year while battling COVID-19.
Oviedo, 22, was recalled Thursday and could provide bullpen depth over the final days of the regular season. In five starts this year, the rookie right-hander has a 5.47 ERA, 16 strikeouts, 10 walks and five hit batters over 24 2/3 innings.