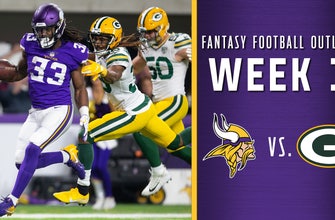 The Minnesota Vikings are battling the rival Green Bay Packers on Sunday. While the game has big implications for the Vikings' 2020 season, it also probably means a lot to you and your fantasy team and league. Who should you start? Who should you bench? We're here to help.
Each week, we'll take a look at the players with fantasy value on the Vikings and their opponent. Player matchups are graded on a 1-5 scale of football emojis, from "don't even think about starting him" (🏈) to "you're a fool if you bench this guy" (🏈🏈🏈🏈🏈).
Let's get started.
MINNESOTA VIKINGS
QB Kirk Cousins: 🏈🏈
If you're planning on starting Cousins, do so with caution. Cousins tore up the Packers defense in 2018, tossing seven touchdowns and one interception in two matchups. But the Packers terrorized Cousins last season. Za'Darius Smith, Preston Smith and the rest of the Green Bay defense sacked him a combined six times as he threw for two scores and three interceptions over the pair of matchups in 2019. For what it's worth, Cousins has more passing yards and touchdowns on the road than at home in each of the past two seasons. Also worth mentioning — with the departure of Stefon Diggs, we're not sure what the Vikings' passing attack will look like this fall.
RB Dalvin Cook: 🏈🏈🏈🏈
Green Bay's 2019 campaign ended in the NFC championship after San Francisco rushed 42 times for 284 yards (6.8 average) en route to a 37-20 win. The Packers ranked 23rd against the run last season. But yet, Green Bay didn't make any moves to boost the defensive line and its inside linebacking depth is iffy. That's good news for Cook. Cook has racked up at least 75 total yards in all three games against Green Bay and has scored twice. He went off for 191 total yards and a score in their last meeting Sept. 15. Start him.
RB Alexander Mattison: 🏈
If you play in a league where you have to start three running backs or has a lot of teams, perhaps you have Mattison as more than a handcuff. Obviously starting a backup is a dicey strategy in any week, but in the circumstances we noted above please do keep in mind Green Bay's lack of success against the run in 2019. If the Vikings can get in a lead, we'd expect them to pound the rock and Cook can't get every carry.
WR Adam Thielen: 🏈🏈🏈🏈
Don't worry about Thielen's no-catch performance against Green Bay last December — it was just his second game back from the hamstring injury that stunted his 2019 campaign. When healthy, Thielen has dominated the Packers secondary. Since becoming a full-time starter in 2016, Thielen has registered 75+ receiving yards in five of seven matchups against the Packers. Now as the undisputed No. 1 receiver in the Vikings offense, Thielen should see a heavy number of targets from Cousins. Thielen has been targeted 10+ times in nine games since Cousins took over under center for Minnesota in 2018. Thielen is averaging 101.7 receiving yards in those contests and has scored in six of them. A bigger role should serve him well.
WR Olabisi Johnson: 🏈
Starting the season as Minnesota's No. 2 receiver behind Thielen, Johnson has the opportunity to carve out a nice role with the purple. However, let's wait to see just how big of a piece of the pie he gets before starting Bisi.
WR Justin Jefferson: 🏈
Perhaps you took Jefferson on a speculative play, considering he was a first-round pick. In PPR leagues he should have a bigger upside, as he was highly productive in college and figures to be a good outlet out of the slot for short and midrange passes. However, the Packers ranked seventh in the NFL against slot receivers in 2019, so perhaps it's better to speculate him in your starting lineup — even in leagues where you need to start three receivers — on another day.
TE Kyle Rudolph: 🏈
If your draft strategy was to hold off on selecting a tight end and Rudolph fell into your hands in the later rounds, we've got some bad news for you. In two games against Green Bay last year, Rudolph was held to a combined four catches for 16 yards and no scores. In fact, the Rudolph the Red Zone Reindeer hasn't found the end zone against the Packers since 2016. Oof.
TE Irv Smith Jr.: 🏈
Minnesota didn't take Smith in the second round of last year's draft to be a backup forever. He didn't get much production in 2019, but perhaps this is the year he and Rudolph switch roles. We wouldn't start him in Week 1, but keep an eye on his usage.
Vikings D/ST: 🏈🏈
We're worried about this matchup. In two games last year, Packers running back Aaron Jones went off for a combined 270 rushing yards and three touchdowns against Minnesota. To make matters worse, Minnesota will be susceptible against the run up the middle as Linval Joseph was cut in the offseason and his replacement, Michael Pierce, opted out of the 2020 season. The Vikings will rely on Plan B — Shamar Stephen and Jaleel Johnson up the middle. Plus, Danielle Hunter is starting the season on injured reserve, meaning the Vikings' pass rush will be a lot easier to deal with for Green Bay's offensive line.
GREEN BAY PACKERS
QB Aaron Rodgers: 🏈🏈
After finishing 17th in passing last season, Green Bay addressed its stale air attack by … not drafting a single receiver and doubling down on its ground game by selecting A.J. Dillon in the second round. With relatively the same weapons out there for Rodgers, we wouldn't expect an outburst of fantasy production in Week 1. Rodgers threw for multiple scores in just two of his final eight regular-season games last year. He's tossed 2+ touchdowns against the Vikings just twice since 2016.
RB Aaron Jones: 🏈🏈🏈🏈
As noted above, Jones has made life difficult for the Vikings defense since he was finally given the primary role in the Packers backfield last season. Of his league-high 16 rushing touchdowns in 2019, three of them came against Minnesota. For those worried about Jones' role declining this fall, don't be — for now. Jones handled 67% of the carries and 57% of the targets among Green Bay running backs in 2019. Coming off a 13-win season and a team expected to be even more dedicated to the ground game, nothing should drastically change in the backfield.
RB A.J. Dillon: 🏈
Beware of the rookie running back. Other than the Raiders' Josh Jacobs, it was a rough fantasy season for first-year backs last season, as we watched Chicago's David Montgomery and Los Angeles Rams' Darrell Henderson take up smaller roles than expected. Long term, Dillon, who weights almost 40 pounds more than Jones, could take away some of Jones' touches inside the 10-yard line, which obviously invokes some fantasy intrigue. But short term? Let's sit him for now, especially since he's listed as the third-team back.
WR Davante Adams: 🏈🏈🏈🏈🏈
Under no circumstances should you not start Adams. He's tallied 100+ receiving yards and/or a touchdown in six straight matchups against Minnesota, dating back to 2016. And this year, the Vikings might be a bit softer on the outside. Mike Hughes, Holton Hill, Jeff Gladney, Cameron Dantzler, Kris Boyd and Harrison Hand are listed as Minnesota's six cornerbacks on the roster. That's a group with a combined nine starts in the NFL. It could be a long welcome-to-the-NFL afternoon for the youngsters against one of the league's top receivers.
WR Allen Lazard: 🏈
Rodgers likes to target his favorites when facing a tough defense like Minnesota. In two games against the Vikings last season, Rodgers connected with Adams for a combined 20 receptions. All other wide receivers totaled 14. Even against the unproven Vikings secondary, Lazard should probably stay on your bench for now.
TE Marcedes Lewis:
Yes, that's right, we've broken our own rule in Week 1 and issued 0 footballs. Believe it or not, the 36-year-old Lewis is listed as Green Bay's starting tight end. He had 15 catches in 2019. The Packers also have rookie Josiah Deguara, Jace Sternberger and Robert Tonyan. Tonyan or Sternberger have the best odds of breaking out in catches among the Packers' tight ends, but for now stay far, far away.
Packers D/ST: 🏈🏈🏈
Green Bay ranked 23rd against the run last season, and the Packers didn't do much to address the interior defensive line in the offseason. But while Cook may torch the green and gold on the ground, the Packers pass rush should have Cousins' head on a swivel. Green Bay has sacked Cousins 10 times while forcing four interceptions in four matchups since he signed with Minnesota. Plus, the Vikings haven't scored more than 30+ points against Green Bay's defense since 2013. There are better options out there, but starting the Packers defense is certainly not out of the question. Call this one a safe pick.